WHY CHOOSE VFE (PART OF THE BUSCH GROUP)
Maximise efficiencies, minimise downtime, and extend equipment lifespan with our range of vacuum pump services, repairs, rental/loan pumps and more.
In 2021, VFE was acquired by Busch UK. As part of the global Busch Vacuum Solutions group of vacuum specialists, VFE can now provide a comprehensive range of vacuum pump products, services and solutions for customers around the world.
Benefit from on-site vacuum pump servicing and repairs, as well as refurbishments and major pump services at any one of three UK workshops dedicated to vacuum overhauls. Internationally, we can also offer these services through Busch's global network of vacuum experts. When investing in a new vacuum pump, choose between refurbished units, rentals/loans or new models developed and manufactured by Busch's experienced engineering teams. We also sell all spares required to ensure optimum performance, operational security and warranty compliance.
Our servicing is competitively priced and can be delivered as part of a routine ServiceCare agreement with fixed rates up to five years and flexible payment plans. With the option of new, refurbished, or rental/loan pumps, every customer can choose the right solutions for their site and their budget, maximising convenience, improving affordability and helping you to keep your operations running.
For more information about our vacuum pump products and services, download your copy of the vacuum pump service specifications sheet.
Download the Vacuum Pump Servicing Product Sheet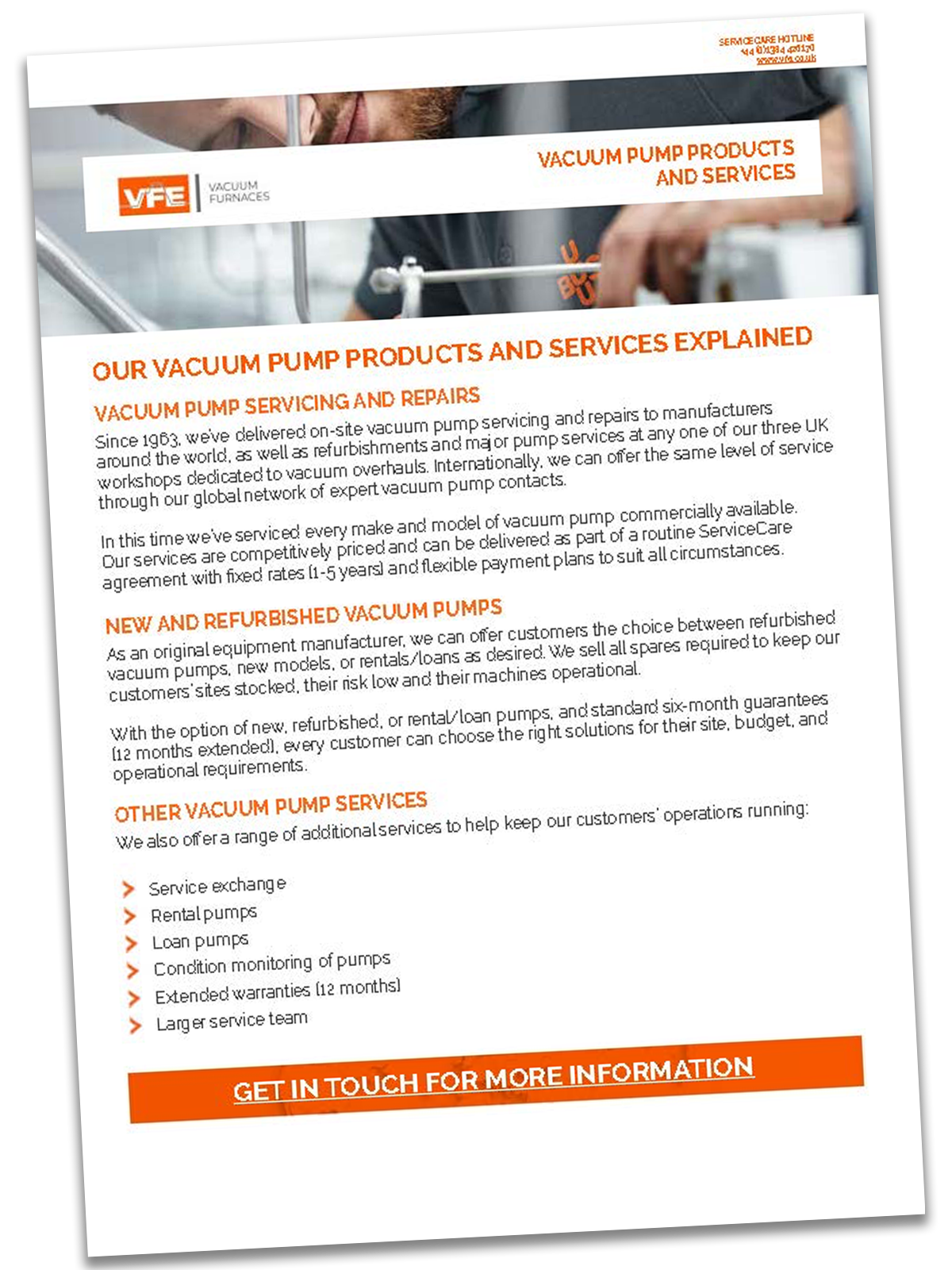 PART OF THE BUSCH VACUUM SPECIALIST GROUP
Whether your vacuum pump isn't performing as expected or it's due its routine service, we can help. Busch's engineers have been servicing and repairing vacuum pumps since 1963, giving them exceptional technical knowledge and experience with many models and makes of vacuum pumps on the market. As part of the Busch group, we are now able to offer that expertise to all our vacuum pump customers.
Customers can choose to benefit from 24/7 breakdown cover, building an extra layer of support and protection into your operations. With three sites dedicated to pump overhauls across the UK and a global network of local contacts, we're never far.
As a spares supplier, we're also well stocked with the quality parts needed to meet any repair requirements your machines may have, minimising downtime and getting your operations back on their feet as quickly as possible.
All servicing work is carried out in accordance with manufacturers' specifications.
NEW AND REFURBISHED VACUUM PUMP SYSTEMS
As an original equipment manufacturer (OEM) of vacuum pumps, our parent company Busch has the capability to design or refurbish a wide range of vacuum pump types, including:
Oil-Lubricated Rotary Vane Vacuum Pumps
Dry Claw Vacuum Pumps and Compressors
Dry Screw Vacuum Pumps
Vacuum Boosters
Dry-Running Rotary Vane Vacuum Pumps and Compressors
Rotary Lobe Blowers
Liquid Ring Vacuum Pumps and Compressors
Side Channel Blowers
Scroll Vacuum Pumps
Diffusion Vacuum Pumps
Each system can be designed to the widest range of vacuum levels to suit your industry and applications, fully supported by Busch's 12-month standard warranty.
ADDITIONAL VACUUM PUMP SERVICES
We understand that every customers' needs are different. To this end, we offer a range of extended services designed to help you keep your operations running:
Service exchange
Rental pumps
Loan pumps
Condition monitoring of pumps
Larger service team
VACUUM PUMP EXPERTISE YOU CAN TRUST
At both VFE and Busch, service is central to everything we do. Whether we're carrying out a vacuum pump service, refurbishing an existing system or leveraging Busch's advanced capabilities as an OEM to design a leading-edge pump for your operations, the way we carry ourselves and the experience you have matters.
We will always tailor our services to suit every customers' requirements. Over the last few years, we have adapted our own operations to continue delivering the support our customers needed around the challenges and limitations of recent times.
We maintain internationally recognised accreditations and a commitment to quality, but it's our customer retention rate that speaks the loudest to the standards we deliver. For decades, manufacturers worldwide have trusted their vacuum furnace, autoclave oven and processing equipment upkeep to VFE.
Now, as part of the Busch group, we're able to further expand our vacuum pump services and capabilities to improve your business and keep your operations running.
To find out more about our vacuum pump services and how you can benefit, download your copy of the vacuum pump services specifications sheet now.